CRM for Edtech Companies- Vryno | Start your Free Trial Today
Customer Relationship Management software's immediate objective is to oversee all of your company's contacts and interactions with clients and future customers. CRM for Edtech companies enables educational institutions to guide and nurture their applicants while offering a seamless experience to probable candidates.
CRM in the education sector helps to manage leads in order to maximise admission efficiency as, admissions are the deciding factor for an institute's success.
Why Do Edtech Companies Need CRM?
An education-based CRM, is designed keeping admissions in mind and each of its features is aligned with the cross-functional requirements of an institution.
1. Oversee Student's Inquiry and Courses Inquired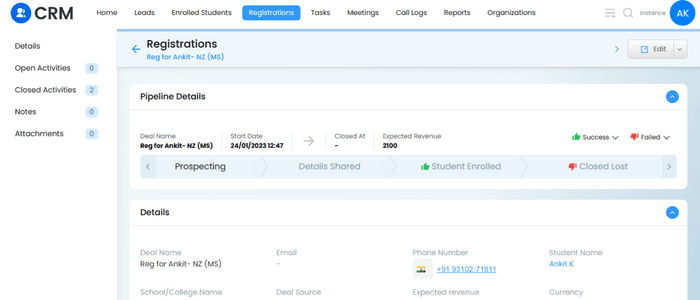 Do you find managing leads and doing your R&D regarding your offerings a troublesome affair? Not anymore, CRM's help you store your leads and at the same time associate courses with both your prospects and students.
Also, associating courses with an Enrolled Student gives you insights regarding which course is giving your maximum business.
2. Manage Student's Information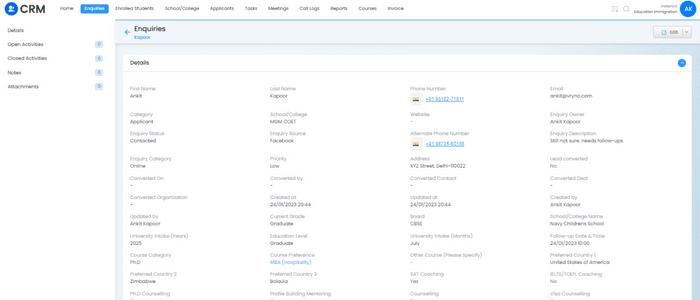 With its Data Centralization features, Vryno CRM allows you to track statuses as well as handle applications under one platform.
Get a personalised digital experience with effective and automatic communication tactics.
3. Maximize Conversion Rate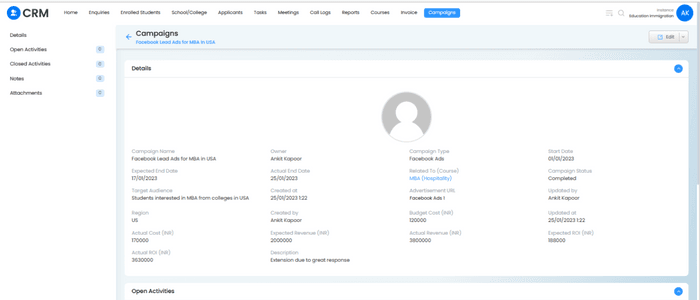 The conversion rate is the initial measure in every leads-to-sales campaign. Vryno CRM allows you to track the amount of prospects who become customers through multiple channels such as search marketing, website, social media, email marketing, cold calling, and so on.
4. Insights regarding Employee Daily Activities and Admissions Lifecycle for students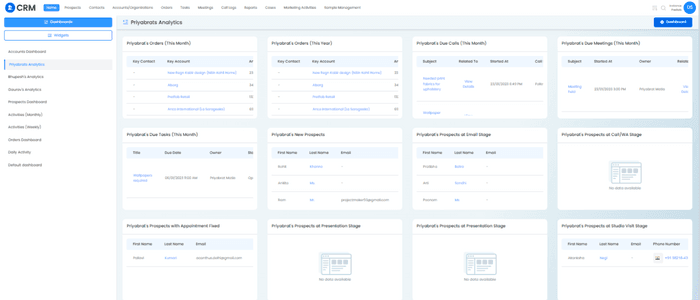 An activity log is a record of how your team allocates their time on a daily basis. Keeping an activity record report helps you to get a better idea of how your employees spend their time throughout the day.
Vryno CRM allows you to keep track of their actions and determine whether they are accomplishing the most important duties at the appropriate time of day.
5. Real-time Reports and Analytics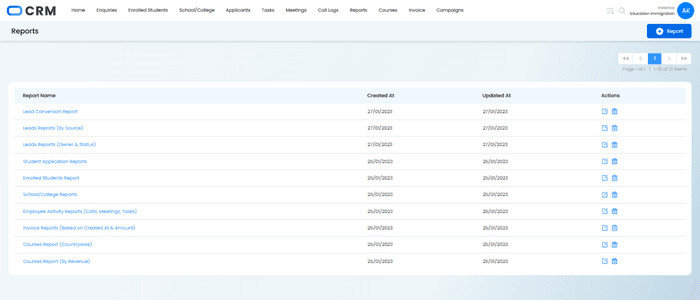 CRM analytics, often known as customer analytics, is an umbrella term for technologies and procedures geared at capturing, gathering, and analysing various types of customer-related data and presenting it in a simple and user-friendly manner.
Vryno is one such feature-rich CRM solution that includes a robust CRM analytics tool. It gives you actionable information into prospect behaviour and engagement on your website and mobile app. It enables you to record and evaluate client interests as well as interaction levels across your website and social media platforms in one location.
How can Vryno CRM help you?
The Edtech CRM is a comprehensive platform meant to centralise your data, make your marketing campaigns more transparent, reduce functional silos and dependencies across departments, and much more. Here are some of the ways in which the capabilities of an Education CRM might benefit your institution.
1. Drive More Enrolments with Lead Management System
It eradicates the industry's wide and most generous problem of lead leakage and lead duplication. It enables you to increase lead quality, verify them, prioritise engagement, and manage it all on the fly.
2. Ensure 360° Engagement with Lead Nurturing System
It individualize your communication in a targeted manner across numerous platforms. In addition to this it also searches your prospects wherever they are by using email,
SMS, WhatsApp, outbound calls, and other methods. You can also use real-time statistics to track daily progress and optimise your messaging, which will strengthen their desire to join your organisation.
3. Maximise the ROI of your Marketing Campaigns
Instead of assuming things, it runs data-driven and progressive campaigns . With Campaign Manager, you can administer, estimate, and optimise the effectiveness of all your campaigns in real time, maximising the return on your marketing investments.
With a flexible and robust dashboard, you can track conversions from enquiry to application or course purchase.
4 .Personalise Engagement with Marketing Automation
It automates concentrated and personalised communication to your prospects based on their profile information and practices over numerous channels like as email, SMS, WhatsApp, and Push Notifications. It provides your candidate an exceptional experience that boosts your brand recall and conversions.
5. Ensure Optimum Security with Advanced User Management
It authenticates a user's access to secure resources and manages permissions. Define teams and hierarchies to group users/teams based on geography or hierarchy, and communicate data among team members based on authorization.
6. Engage Seamlessly with Strategic Remarketing
It uses a 360° focused strategy to communicate with your candidates in real time. Also set up periodic data to push Facebook or Google Audiences and you'll never have to sync data again.
The system automatically retrieves the target list of candidates based on the filters you choose and feeds them to your Remarketing Audiences.
Conclusion
The VRYNO platform is adaptable, making it simple to adopt and use your existing sales process. It enhances your sales and marketing tactics through:
Lead Distribution: Set up procedures to send student leads to salespeople as soon as they arrive.
Lead Qualification: Automatically score and qualify student leads while also assisting your salesmen in prioritizing their work.
Sales Notifications: Create rules that notify salesmen whenever students perform a key step.
Smart Views: Give your counselors customizable task views to help them arrange their days.
Sales Funnel Movement: It automates the movement of Students along the funnel .Also depending on the activity, change the lead stages.
Sales Tracking: Automatically tracks everything – conversations, activities, salespeople, and closures.
Thus, from generating leads to making them your forever customers, Vryno CRM helps you to complete your sales process.
So, what you are waiting for? Click here to start your free trial or Click here for a quick demo!!!!