In today's fast-paced business environment, successfully maintaining relationships with customers has become critical for businesses of all sizes. A CRM (Customer Relationship Management) software is critical in simplifying and optimizing these interactions.
Vryno CRM stands out among the number of CRM options available as a powerful and easy platform designed to help organizations in establishing strong client connections. In this blog article, we will look at the concept of CRM, its benefits, and the features that make Vryno CRM a top option for organizations all over the world.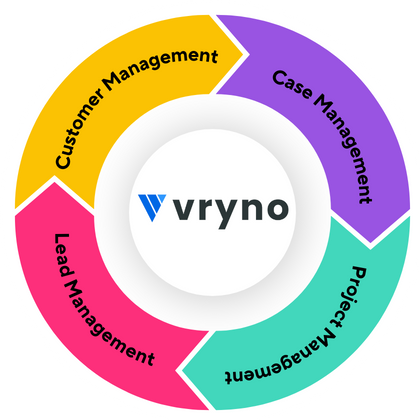 CRM refers to the tactics, approaches, and technology used by organizations to manage and analyze customer interactions and data across the customer journey. CRM software serves as a single repository for customer information, allowing for a complete picture of each customer's history, preferences, and contacts with the organization.
Businesses may optimize their sales, marketing, and customer service activities by utilizing this complete data, resulting in enhanced customer happiness and revenue.
Benefits of Vryno CRM
Improved Customer Insights
Vryno CRM gathers diverse customer data, enabling personalized experiences by analyzing preferences, behaviors, and touchpoints
Efficient Lead Management
Vryno CRM streamlines lead management, automating nurturing and optimizing conversions for shorter sales cycles and increased revenue
Vryno CRM empowers sales teams with pipeline management, automation, and real-time visibility for meaningful connections and transactions
Effective Marketing Campaigns
Vryno CRM enables personalized marketing campaigns through automation & segmentation for increased efficacy and ROI
Key Features and Differentiators of Vryno CRM
Intuitive User Interface
Vryno CRM offers an intuitive interface for easy navigation and utilization without extensive training or technical expertise
Low Code No Code
Vryno CRM offers extensive customization for organizations to tailor the system to their unique processes and requirements
Seamless Integrations
Vryno CRM seamlessly integrates with popular third-party tools, creating a unified environment for managing customer interactions
Analytics & Reporting
Vryno CRM offers robust analytics, empowering users to gain insights and make data-driven decisions with customizable tools
Scalability and Flexibility
Vryno CRM scales with your organization, handling growing data volumes and users, with flexible cloud-based accessibility
Conclusion
As organizations continue to prioritize a customer-first approach, using a CRM system such as Vryno CRM has become essential. Vryno CRM enables organizations to optimize customer interactions, improve operations, and drive development with its extensive range of features, user-friendly interface, and scalability.
Companies may develop strong and long-lasting relationships with their customers by using the power of Vryno CRM, eventually leading to better profitability and a competitive edge in today's changing industry.